Contact Our Waxahachie Office
Your Waxahachie Foot Specialists Have Helped Over 50,000 Happy Patients Find Foot Pain Relief!
Family Foot & Ankle Centers
Waxahachie Office
1505 W Jefferson Street
Suite 170
Waxahachie, TX 75165
Phone: 972-597-4132
Office Hours:
Monday: 8:30 am – 5:00 pm
Tuesday: 8:30 am – 5:00 pm
Wednesday: 8:30 am – 5:00 pm
Thursday: 8:30 am – 5:00 pm
Friday: 8:30 am – 5:00 pm
Our Waxahachie podiatrist location is easily visible from Ferris Ave. Look for the large building with Texas Pain Physicians on top.
The Waxahachie office is modern and equipped with the latest state-of-the-art technology.  Your treatment will benefit from on-site digital X-ray, Extracorporeal Pulse Activation Technology (EPAT) for pain, on-site vascular testing, and electronic medical records.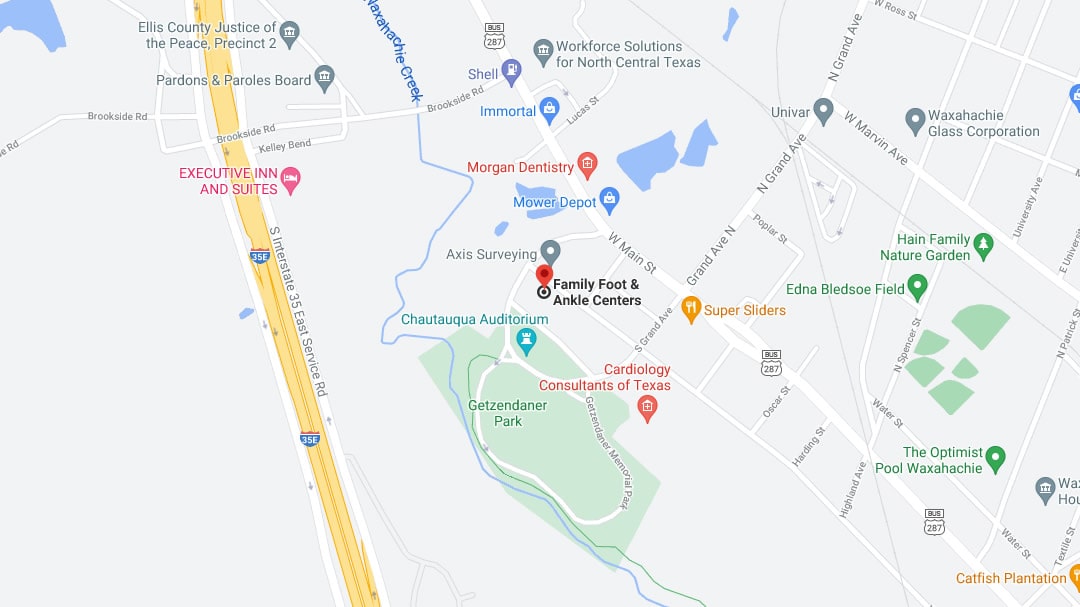 We Accept Your Insurance
At our Waxahachie podiatrist location, we participate in almost all insurance plans. This includes Medicare. Most insurance plans do not require a referral, so you can conveniently schedule your appointment. Our front office team will even verify your benefits before seeing the doctor as a courtesy to our patients. Call the office at (972) 597- 4132 with any questions or feel free to fill out the contact form.
New Patient Orthopedic Form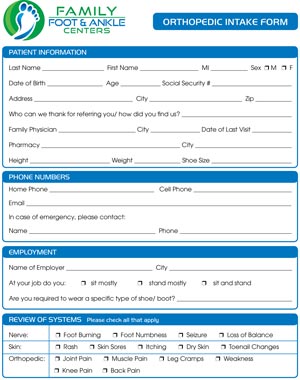 Now Accepting New Patients
Are you searching for the best Podiatrist in Waxahachie? If yes, we are currently accepting new patients.
Family Foot & Ankle Centers specializes in the diagnosis and treatment of foot problems to patients throughout Ellis County. During the initial visit, we will take the time to listen and give you time to get to know your foot specialist.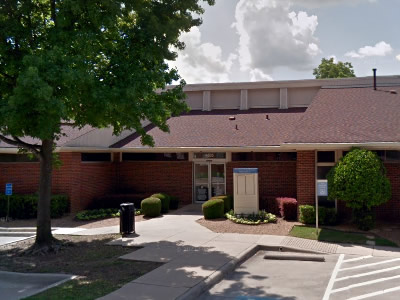 We welcome questions or comments. Please feel free to use our contact form below. If you would like to schedule an appointment with your new favorite Waxahachie foot specialists, then please click here to use our appointment request form. We look forward to meeting you!
*Please do not submit any Protected Health Information (PHI). This is not a secure or encrypted means of communicating with our Waxahachie podiatrist office."
As the premier podiatry centers in Waxahachie, Corsicana and Ennis, TX, our foot doctors and team at Family Foot & Ankle Centers also provide 5-star podiatry care to patients in our surrounding areas.  We proudly serve patients in Navarro and Ellis counties and surrounding areas including Red Oak, Midlothian, Desoto, Cedar Hill, Lancaster, Duncanville, Arlington and Mansfield. The Foot Specialists at Family Foot & Ankle Centers are improving lives one foot at a time.