5-Star Ingrown Toenail Doctors in Waxahachie, TX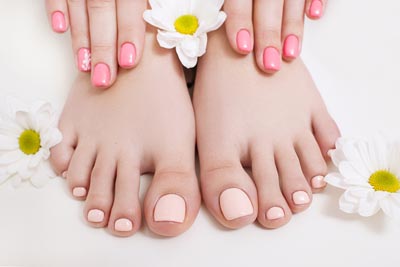 The Best Waxahachie Podiatrists Offer Permanent Ingrown Toenail Relief
Does your big toe hurt with every step? If your big toe is a little sore and red around one side of the nail, you probably have an ingrown toenail.
While some ingrown toenails can resolve by themselves, they are more likely to worsen or even become infected. Many people with an ingrown toenail in Waxahachie, TX, have turned to our award-winning podiatrists at Family Foot & Ankle Centers. In fact, our office has fixed more than 10,000 ingrown toenails! Very few doctors in Texas can say that.
What Are the Signs of an Ingrown Toenail?
The most common signs of an ingrown toenail include:
Tenderness or pain along one or both sides of your toenail
A red area around your toenail
Swelling near the sides of your toenail
Heat coming from the painful or swollen area
Pus leaking from the reddened area of your toe
Causes:
The following are some of the leading causes of an ingrown toenail:
Tight fitting shoes, where significant pressure is applied to the toenail, is one of the most common reasons for painful toenails.
Genetic predisposition to ingrown toenails. Yes, ingrowing toenails tend to run in families.
Cutting the toenails incorrectly. Round cut toenails give the wrong direction to the growth of the nails. Digging into the corners has a similar result.
Feet hygiene is exceptionally significant; infections such as fungal infections change the size and dimension of the nails, which may become one of the reasons for the ingrown toenail.
A repetitive injury at the same spot on the toe from a shoe can cause the nail to grow into the skin.
Seek Help for Your Ingrown Toenail Right Away
If you have noticed any of the listed signs above, even if there is no pain yet, we highly recommend that you come in to be evaluated. As is the nature of a toenail, it may continue to grow, possibly embedding itself further into your toe. When this happens, your risk of complications increases, including an infection that can travel from the toe to the surrounding bone. A bone infection is very serious and can cause extreme illness and even death.
If you are diabetic, the risk of infection is higher due to the possibility of poor circulation in your feet. Please be sure to check daily for any swelling or redness around your toenails as neuropathy may prevent you from feeling pain or discomfort.
Experience Our Award-Winning Care for an Ingrown Toenail in Waxahachie, TX, Today!
Schedule an appointment today by calling us at 972-597-4132 or by clicking here to use our convenient online form. We offer same-day appointments and have bilingual Spanish-speaking professionals on staff for your convenience. During your appointment, our team will be happy to answer all your questions about our treatments, our office, our flexible payment options, and anything else you may want to know about us! Call today – we can't wait to help you live your life pain-free!
As the premier podiatry centers in Waxahachie, Corsicana and Ennis, TX, our foot doctors and team at Family Foot & Ankle Centers also provide 5-star podiatry care to patients in our surrounding areas.  We proudly serve patients in Navarro and Ellis counties and surrounding areas including Red Oak, Midlothian, Desoto, Cedar Hill, Lancaster, Duncanville, Arlington and Mansfield. The Foot Specialists at Family Foot & Ankle Centers are improving lives one foot at a time.